A Hero Reborn: "China's Tolkien" Aims to Conquer Western Readers
英雄重生:"中国的托尔金"意在征服西方读者
The world's most popular kung fu fantasy series is finally set to become a UK bestseller.
全世界最受欢迎的武侠系列小说终于将成为英国畅销书。
By Vanessa Thorpe
文/瓦妮莎·索普
Guo Jing, a young soldier among the massed ranks of Genghis Khan's army and son of a murdered warrior, may soon become as familiar a questing literary figure as Frodo Baggins from Tolkien's Lord of the Rings, or Jon Snow from Game of Thrones. In fact, this Chinese fighting hero is already part of phenomenon[1] that can match both of those epics in size. For the books of Guo Jing's creator, the author known as Jin Yong, have already sold more than 300m copies.
郭靖是成吉思汗大军众多将士中的一名小兵,其父也是一名勇士,但惨遭杀害,他可能很快就会像托尔金小说《魔戒》里的弗罗多·巴金斯或《权力的游戏》中的琼恩·雪诺一样,成为人们熟知的探险文学人物。其实,这位中国武侠英雄所创造的轰动效应可与那两部史诗巨著匹敌。而塑造郭靖这个角色的作家金庸的著作销量已经达到3亿多册。
[1] phenomenon 非凡的人(或事物)。
The world's biggest kung fu fantasy writer, Jin Yong enjoys huge popularity in the Chinese-speaking world. In the west, however, his name is barely the world he has created and the puzzle that has posed for translators.
作为全球最知名的武侠小说作家,金庸在华语世界享有很高的人气。然而,他的名字在西方几乎不为人知,主要是因为他构建的武侠世界纷繁复杂,给译者带来了难题。
Now, for the first time, the beginning of his extraordinarily popular series, Legends of the Condor Heroes, has been translated into English for a mainstream readership. It is a task that has already defeated several translators, yet Anna Holmwood, 32, from Edinburgh has managed it – or at least the first volume. Her British publisher, MacLehose Press, plans a 12-volume series, with Holmwood's first volume, A Hero Born, due out in February.
现在,他深受欢迎的系列小说的开篇之作《射雕英雄传》首次被译成英语,呈献给主流读者。这个任务已经难倒了几位译者,而来自爱丁堡、32岁的郝玉青解决了这个难题,至少她译出了第一卷。她在英国的出版商麦克莱霍斯出版社计划分12卷发行这部小说,将于2月出版郝玉青翻译的第一卷《英雄出世》。
Agent Peter Buckman, who sold the rights to the series to the publisher, came across the works almost by chance as he searched the internet for "bestselling authors". "Jin Yong was in the top 10, though I'd never heard of him; nor did I read Chinese," he said this weekend.
版权经纪人彼得·巴克曼将该系列小说的版权卖给了这家出版商,他在网上搜索"畅销作家"时很偶然地发现了这些作品。巴克曼在本周末说:"金庸名列前十位,可是我从未听说过他,我也不认识中文。"
Comparisons with Tolkien or George RR Martin might sound overblown, but in and around China, Jin Yong's works are classics, loved like fairytales or national legends.
将金庸与托尔金或乔治·R.R.马丁相提并论,可能听起来言过其实,但是在中国和周边国家和地区,金庸小说都是经典作品,像童话故事或民族传说一样深受喜爱。
"These books are read by so many Chinese people when they are teenagers, and the work really stays in their heads," Holmwood told the Observer. "So, of course, I felt a great weight of responsibility in translating them – and even more as publication draws near."
"很多中国人在青少年时代就读过这些小说,这部作品深深地留在他们的脑海里。"郝玉青接受《观察家报》采访时说,"当然,我在翻译这些作品的时候感到责任重大,离出版日期越近感到责任越大。"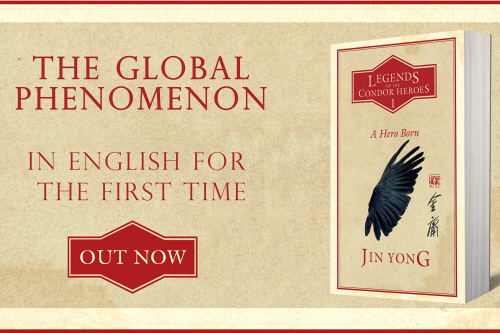 Set in China in 1200, A Hero Born tells of an empire close to collapse. Under attack from the Jurchen Jin dynasty, the future of the entire Chinese population rests in the hands of a few lone martial arts exponents. A novel in the wuxia, or fighting hero, tradition, it was written under the pen name Jin Yong by Chinese journalist, Louis Cha Leungyung. A founding editor of the Hong Kong daily newspaper Ming Pao, in the 1950s he put together a set of stories charting the progress of a young martial arts fighter during the Song dynasty and serialised them. The plots were fictional but the historical background was real.
《英雄出世》以公元1200年的中国为背景,讲述了宋朝走向衰亡的故事。面对女真金国的进攻,中原全体大宋子民的未来都掌握在几个修炼独门绝技的武林高手手中。这本沿袭武侠传统的小说出自以"金庸"为笔名的中国记者查良镛笔下。20世纪50年代,创办香港日报《明报》并担任主编的金庸撰写故事在报上连载,描写了宋朝少年侠士练就绝世武功的过程,后将这些故事集结成册,出版了系列小说。这些情节是虚构的,可是历史背景却是真实的。
They became the biggest Chinese publishing hit of the last century. Cha, who is now 93 and lives in seclusion, created a vast imaginary world over 15 novels, which spawned[2] films, games, comics and television shows.
这些小说成为上世纪中国出版界最受欢迎的作品。93 岁的金庸如今隐居世外,他撰写的15部小说创造了波澜壮阔的虚幻世界,由此改编成多部电影、游戏、漫画和电视剧。
[2] spawn 大量生产。
Buckman bought the rights and sold them on to a British publisher after meeting Holmwood and discovering how little of the series was available in English. "Anna did a sample chapter of the first of the Condor Heroes books and I sent it out to various publishers. My old friend Christopher MacLehose, who specialises in translated masterpieces, had discovered from a Chinese friend how Jin Yong's work was like Simenon's is to the French or Tolstoy's to the Russians – a part of the common culture, with one generation of readers passing on their enthusiasm to the next," he said.
巴克曼与郝玉青见面后,发现该系列小说的英文译本极少,于是买下小说版权并卖给一家英国出版商。他说:"郝玉青试译了《射雕英雄传》系列第一卷的章节,我把译文寄给了多位出版商。我的老朋友克里斯托弗·麦克莱霍斯专门从事名著英译本的出版,他从一位中国朋友那里得知,金庸小说犹如西姆农的作品之于法国人,或是托尔斯泰的著作之于俄罗斯人,已经成为共同文化的一部分,让一代又一代读者为之痴迷。"
Although there have been academic translations published over a decade ago, including an edition of The Deer and the Cauldron translated by John Minford, attempts to tackle the wider work have been abandoned. Holmwood, who studied Chinese at Oxford University, first discovered the book in Taipei and later moved to Hangzhou, in east China, while she worked on her translation.
尽管十多年前出版过金庸小说的学术译著,其中包括汉学家闵福德翻译的《鹿鼎记》,后来又有多次尝试翻译更多金庸作品,但这些尝试都半途而废了。郝玉青在牛津大学学习过中文,她在台北发现了这本书,后来搬到中国华东地区的杭州,其间一直从事翻译工作。
Fellow translators are now being drafted in to help with the task, but the challenge facing all of them is to faithfully represent the kung fu moves along with the Chinese philosophies and religions that are all woven through the plot. Even the fighting skill of the warrior in A Hero Born, for instance, which literally translate as "the 18 palm attacks to defeat dragons", is in fact derived from a Taoist classic ascribed to[3] Lao Tzu, dating from 2,500 years ago, and has a strong philosophical element in addition to movement.
她也请来其他译者帮助完成这项任务,可是他们面临的挑战是如何忠实地表现功夫动作以及贯穿整个剧情的中国哲学和宗教。比如说,《英雄出世》中郭靖的绝世武功按字面翻译成"降龙十八掌",实际上是源于2500年前老子的道家经典,除了武功招式以外,还蕴含浓厚的哲学意味。
[3] ascribe to 把……归于。
"I am of the belief that a lot of readers like a bit of a challenge as they go along," said Holmwood, who now lives in Malmö, Sweden, with her Taiwanese husband and son. "That is why fans of Lord of the Rings try to learn Elvish. So I don't explain everything, although I have written a very short prologue to introduce some of the elements of the story."
郝玉青和她的台湾丈夫及儿子现住在瑞典马尔默,她说:"我认为,很多读者在阅读中喜欢些许挑战,这也是《魔戒》书迷设法学习精灵语的原因。所以我没有解释所有的细节,不过我写了篇很短的序言来介绍小说的部分内容。"