The Secret to a Happy Life
– Courtesy of Tolstoy
幸福生活的秘诀
——来自托尔斯泰的启示
Tolstoy, who was born in 1828 and died in 1910, was a member of the Russian nobility, from a family that owned an estate and hundreds of serfs. The early life of the young count was raucous, debauched and violent.
托尔斯泰(1828—1910)出身于俄国贵族,家里有庄园和数百名农奴。这位青年伯爵早年狂放不羁,耽于声色,且好勇斗狠。
"I killed men in wars and challenged men to duels in order to kill them," he wrote. "I lost at cards, consumed the labor of the peasants, sentenced them to punishments, lived loosely, and deceived people... so I lived for ten years."
"我在战争中杀人,挑战别人,与他们决斗好杀死他们,"他写道,"打牌上瘾,剥削农民,滥用私刑,生活放浪,欺骗他人……我就这么过了10年。"
But he gradually weaned himself off his decadent, racy lifestyle and rejected the received beliefs of his aristocratic background, adopting a radical, unconventional worldview that shocked his peers. So how exactly might his personal journey help us rethink our own philosophies of life?
但是他逐渐告别了自己堕落不羁的生活方式,弃绝了贵族出身所带来的观念,选择了一种激进的、违背传统的世界观,震撼了同辈中人。那么他的个人经历可以怎样帮助我们反思自己的人生哲学呢?
1. Keep an open mind
1. 开放心态
One of Tolstoy's greatest gifts was his ability and willingness to change his mind based on new experiences. The horrific bloodshed he witnessed while fighting in the Crimean War in the 1850s turned him into a lifelong pacifist. In 1857, after seeing a public execution by guillotine in Paris – he never forgot the thump of the severed head as it fell into the box below – he became a convinced opponent of the state and its laws, believing that governments were not only brutal, but essentially served the interests of the rich and powerful. "The State is a conspiracy," he wrote to a friend. "Henceforth, I shall never serve any government anywhere." Tolstoy was on the road to becoming an anarchist.
托尔斯泰能够也愿意基于新的经历转变自己的思想,这是他最伟大的禀赋之一。他曾参加过19世纪50年代的克里米亚战争,血雨腥风的战争恐怖场面使他终生成为一名反战主义者。1857年,托尔斯泰在巴黎目睹了一场公开处决,他无法忘记断头台上人头掉入盒子的声音。这使得他开始坚决反对政府和法律,认为政府无异于洪水猛兽,专为有钱有势的人谋利益。"国家就是一场阴谋,"他在写给一位朋友的信中写道,"故此,我绝不会为任何国家、任何政府卖命。"托尔斯泰走上了无政府主义者的道路。
2. Practise empathy
2. 换位思考
Tolstoy displayed an unusual capacity to empathise by stepping into the shoes of people whose lives were vastly different from his own. In the 1860s, he not only adopted peasant dress but began working alongside the newly emancipated labourers on his estate, ploughing the fields and repairing their homes with his own hands. For a blue-blooded[1] count, such actions were nothing short of remarkable. Although no doubt tinged with paternalism, he enjoyed the company of peasants and consciously shunned the literary and aristocratic elite in the cities. Tolstoy believed you could never understand the reality of other people's lives unless you had a taste of it yourself.
托尔斯泰深入体验他人截然不同的生活,展现出非同寻常的同理心。19世纪60年代,他不但穿上农人的衣服,而且与刚解放的劳力们一起在自家庄园里干活,亲手犁田,修缮房屋。作为一个血统高贵的伯爵,这些举动真是特立独行。虽然无疑带点专制,但他喜欢和农人们待在一起,并且有意躲避城市中的其他文豪和贵族精英。托尔斯泰认为,非亲身体验无法理解他人的生活。
[1] blue-blooded 具有贵族血统的,出身名门的。
3. Make a difference
3. 与众不同
He also distinguished himself from his upper class peers by taking practical action to alleviate other people's suffering, most evident in his famine relief work. After the crop failure of 1873, Tolstoy stopped writing Anna Karenina for a year to organise aid for the starving, remarking to a relative: "I cannot tear myself away from living creatures to bother about imaginary ones." His friends and family thought it was crazy for one of the world's finest novelists to put one of his works of genius on the backburner. He did it again following the famine in 1891, spending two years working in soup kitchens and fundraising. Can you imagine a bestselling author today setting aside their latest book to do humanitarian relief work for two years?
与上流社会的其他人相比,托尔斯泰的过人之处还在于能够采取实际行动扶危济困,尤其是在赈济饥民方面。1873年粮食歉收,托尔斯泰暂停撰写《安娜·卡列尼娜》,花了一年的时间为赈济饥民奔走呼号。他对一位亲戚说:"我无法扔下活着的人们去为虚幻的角色操心。"朋友和家人都觉得他疯了,无法理解世界上最伟大的小说家居然会把他的天才之作放到次要位置。1891年饥荒爆发,他再次辍笔,花了整整两年时间奔走于施粥站和筹款的路上。你能想象当今哪位畅销书作家放下他的新作,花两年时间忙于人道主义援助吗?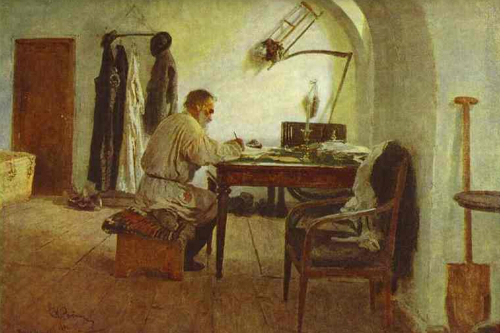 4. Master the art of simple living
4. 简约生活
Following a mental breakdown in the late 1870s, Tolstoy rejected all organised religion, including the Orthodox Church[2] he had grown up in. He adopted a revolutionary brand of Christianity based on spiritual and material austerity. He gave up drinking, smoking, and became a vegetarian. He also inspired the creation of utopian communities of simple, self-sufficient living, where property was held in common. These "Tolstoyan" communities spread around the world and led Gandhi to found an ashram in 1910 named the Tolstoy Farm.
19世纪70年代末,托尔斯泰经历了一次精神崩溃。病愈之后,托尔斯泰拒绝任何有组织的宗教,包括他从小到大信奉的东正教。他转信了一个革命性的基督教派别,在精神和物质上奉行节俭。他戒烟戒酒,开始吃素,甚至鼓励创造一种简单纯净、自给自足、财产公有的乌托邦社区。这种"托尔斯泰式"的社区在世界范围内传播,印度民族解放运动领导人圣雄甘地受此影响,在1910年将自己的静修处命名为"托氏农场"。
[2] 1054年,东西两派教会彻底分裂。东派教会以正统自居,故称"正教",因地处欧洲东部,又称为东正教。
5. Beware your contradictions
5. 谨防矛盾
This new, simpler life was not without its struggles and contradictions. Tolstoy famously preached universal love yet was constantly fighting with his wife. Moreover, the apostle of equality was never able to fully abandon his wealth and privileged lifestyle. He lived until old age in a grand house with servants. But in the early 1890s he managed – against his family's wishes – to relinquish copyright to a huge portion of his literary works, in effect sacrificing a fortune. Given the privileged position in which Tolstoy started his life, his personal transformation, if not complete, still deserves our admiration.
托尔斯泰新式的简约生活并非没有矛盾和挣扎。他一面以广布仁爱而著称,一面与妻子战火不断;一面宣扬平等,一面从未完全放弃财富和优越的生活方式。直到暮年,他一直生活在有仆人伺候的豪宅里。不过,19世纪90年代初,他不顾家人反对,放弃了很大一部分文学作品的版权,相当于捐出了大笔财产。考虑到托尔斯泰从小养尊处优,他的个人转变即使不够彻底,也同样值得我们敬佩。
6. Become a craftsman
6. 做个手艺人
Tolstoy recognised that striking a balance between mind and body was an essential part of his creative process. He not only regularly put down his pen to guide a horse-drawn plough across the fields, but kept a scythe and saw leaning up against the wall next to his writing desk. In his last years, when writers and journalists came to pay homage to the bearded sage, they were always surprised to find one of the world's most famous authors huddled over his cobbling tools making a pair of boots. If Tolstoy were here today he would no doubt suggest we get some craft into our lives rather than grant so much of our leisure time to tweeting and texting.
托尔斯泰认识到,保持身心平衡是创作过程的必要一环。他经常放下笔,在田地里牵马拉犁,书案旁边的墙上也时常倚着镰刀和锯。在他生命最后的几年里,作家和记者们前来拜谒这位大胡子智者时,常常不无惊讶地发现这位世界知名的作家正躬身在各种工具之间制作一双靴子。如果托尔斯泰今天还活着,他肯定会劝我们多参与手工劳动,不要将大把空余时间花在发信息和推特上面。
7. Expand your social circle
7. 扩大社交圈
The most essential life lesson to take away from Tolstoy is to follow his lead and recognise that the best way to challenge our assumptions and prejudices, and develop new ways of looking at the world, is to surround ourselves with people whose views and lifestyles differ from our own. In Resurrection, he pointed out that most people – whether they are politicians, businessmen or thieves – "instinctively keep to the circle of those people who share their views of life and their own place in it". Cosseted within our peer group, we may think it perfectly normal and justifiable to own two homes, or to oppose same-sex marriage, or to bomb countries in the Middle East. We cannot see that such views may be perverse, unjust, or untrue, because we are inside circles of our own making. The challenge is to spread our conversational wings and spend time with those whose values and experiences contrast with our own. Our ultimate task, Tolstoy would advise us, is to journey beyond the perimeters of the circle.
从托尔斯泰身上学到最重要的人生一课,是在他的引领下认识到:要想克服臆想和偏见,建立全新的世界观,最好的方法就是与思想和生活方式迥然不同的人共处。在《复活》一书中,托尔斯泰指出,无论政客、商人还是窃贼,多数人"只会本能地待在自己的圈子里,与那些有相同人生观和身份的人在一起"。在这样的圈子里,我们可能会认为,拥有两处房产、反对同性婚姻、轰炸中东国家,是再正常不过、合理不过的事情。因为我们一直待在自己的圈子里,所以意识不到这些观点有悖常情、缺乏公正、异想天开。我们需要挑战自己,扩大谈话的圈子,花时间和那些价值观、生活经历迥异的人在一起。托尔斯泰会建议我们,人生的终级目标,就是要超越自己的生活半径。
(译者单位:西安外国语大学)