New Options for Child Care Arise, with Demand High as Carroll County Schools Stick with Online Instruction
Christine Condon
For Westminster mom Sara Timm, the release of the Carroll County Public Schools schedule for elementary schoolers was "the nail in the coffin."
Timm and her husband knew that another semester of online learning at home, with their 6-year-old daughter sitting at the computer for hours at a time and expected to work independently, just wouldn't work out. The couple are both working from home, Timm said, and had to supervise plenty of their kindergartner's online learning in the spring.
"We really had to sit next to her and physically do school with her," Timm said. "Even just a simple task that you and I take for granted, like clicking on a mouse and doing a drag-and-drop function, she didn't know how to do as a 5-year-old."
So the family turned to the YMCA, which is hosting "Y Academic Support Centers" at several elementary schools in Carroll County, and at The Hill Y in Westminster. The program would allow their daughter to go back to school at William Winchester Elementary School, alongside a small group of other kids.
It was a tough choice, Timm said, given the cost and safety concerns due to COVID-19.
"I don't have the crystal ball to tell you what is the best choice here," she said. "Nothing is more important than our child being healthy... But we also want her to have a positive association with her schooling."
It's a decision numerous parents have struggled to make this summer, as school systems around the state debated what to do this fall, with CCPS ultimately settling on more online instruction.
Meanwhile, Carroll County facilities including a gym, a day care provider and even a video game lounge have stepped up to host small groups of young students during the day while they complete their online classes.
Another place for remote learning
School closures have created a new market for round-the-clock care during the school year, with parents headed back to work and searching for ways to keep their kids active and occupied during the pandemic brought on by the novel coronavirus and the disease it causes, COVID-19.
At Coppermine 4 Seasons, a facility in Hampstead with a fitness center, swimming pools and sports fields that normally hosts summer camp and before and after-school care, officials are planning to hold a "fall enrichment program."
The program, which is for students between kindergarten and eighth grade, offers supervision for students completing their online coursework, as well as recess time, according to general manager Jessica Dannettel. Students will need to bring their own laptops or tablets to access their online classes, she said.
While plenty of students will be attending classes from their bedrooms and kitchen tables, plenty more are in need of places to go, Dannettel said.
"We decided that we wanted to offer this because we have found that there is such a need with our current families," she said.
Interest has declined a bit as of late, Dannettel said, after schools in the county released their plans for online instruction. Elementary-schoolers in the county will have 75 minutes of live instruction, paired with 2 hours during which students can meet one-on-one with their teacher for additional help. Middle schoolers will have 2½ hours of synchronous instruction spread throughout the day, and 30 minutes of synchronous student support time to end the day.
"Parents don't want to have to spend that much money just to have their kids sitting on a computer all day," Dannettel said.
The full-day program, which goes from 9 a.m. to 4 p.m., costs $49 per child per day, but Coppermine 4 Seasons is still offering before- and after-school care, at a cost of $5 per child per day.
The facility has had to hire additional aides to provide round-the-clock supervision and assistance to kids working on their classes. The facility is planning a 14-to-1 student-to-staff ratio, and is planning to keep all of the children and staff in small, separate groups, as they did during their summer camp this year.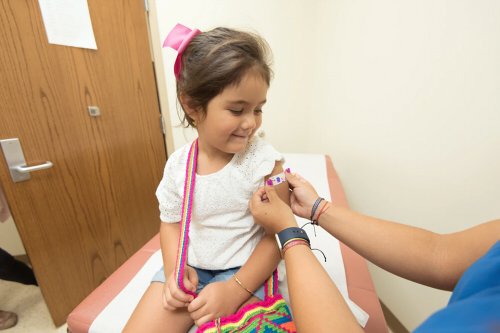 Other approaches
The Boys & Girls Club of Westminster is holding a similar program. The program is planned to provide tutors to help children complete their schoolwork, and technology will be on hand for students to get online if they don't have their own.
"We are concerned about the impact that continued distance learning will have on our youth academically and socially," a spokesperson for the nonprofit wrote in a Carroll County Times column from earlier this month. "We realize that extended periods of time away from school, friends and trusted adults is difficult and can trigger depression, anxiety or increase risk taking behaviors in our youth."
Battleground Lounge in TownMall of Westminster was on the brink of closure before its owners heard about the possibility of renting out their space, typically used for video game playing, for students to complete online classes, co-owner Mike Borris said.
Because that facility isn't a licensed child care provider, their staff cannot run the programming, so parents will likely volunteer to watch over the children on a rotating basis, he said. The program will cost $25 per child per day.
After posting a survey about the program Tuesday, Borris said he'd received about 40 responses.
In total, the facility could host about 70 students at a time – given capacity restrictions – in three different computer lab spaces, with work stations 6 feet apart. Battleground is also hoping to coordinate with Fun & Fit Factory, also in the mall, to allow students to play sports or watch movies during their recess time.
"We don't have much time till school starts," Borris said. "We're just trying to work fast to make it work so that parents can be able to go to work and have something to do, and don't have to lose their jobs, especially for families that are single-parent households, it's just like – what are they supposed to do?"
Day care partnership with schools
ABC Care, based in Finksburg, is one of the programs that has been approved to hold day care in Carroll County schools, including Westminster Elementary and Piney Ridge Elementary, said Kristine Gesuele, one of ABC's senior managers.
Based on Maryland Department of Education requirements, the day care program is able to operate at half capacity in large spaces like school cafeterias, Gesuele said. Groups of children and staff can be no larger than 15, so the day care program is planning to have two groups of 13 children, each paired with two staff members, in each of its schools. It will cost about $50 per child per day, Gesuele said.
"We are providing space and accommodations under our traditional lease arrangement," CCPS spokesperson Carey Gaddis said. "The only exception is that we are allowing them to function full-day, instead of before and after school only, for the time period we are virtual."
In a memorandum dated Aug. 7, State Superintendent Karen Salmon recommended that child care programs "partner with the local school system."
"It may be helpful to use the same curriculum they are using," she wrote. "Classrooms should have age-appropriate materials and furniture for 5-year-olds and teachers trained to provide effective instruction."
ABC was a day care provider for essential workers earlier in the pandemic, Gesuele said, and has run two summer camps this year. They've had parents check in from their cars using a tablet, rather than walk into a facility to pick up their kids. They've kept small groups of children separate, Gesuele said, and haven't had a COVID-19 infection to date.
Gesuele said allowing child care providers to operate in schools, even when the school itself isn't in session, makes sense given the need for such services, and the limited number of students who will participate.
"For an elementary school, middle school or high school, to do that for a hundred kids is very different from doing it for 26 to 28 kids," Gesuele said.
So far, ABC has hired 10 additional staff members, and plans to hire three to five more, if enrollments continue to grow, according to Gesuele.
"I suddenly need staff for 12 hours a day," she said.